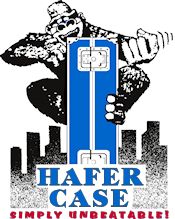 ---
Authorized Dealer For

---
Hafer will design and build the custom case of your dreams.
You can buy 1 or 100!
---

A self-contained portable
beverage and snack bar.

Great for trade shows, exhibitors, mobile catering, event rentals and more.

---
Hafer Case Builds
ATA Spec 300 Cases
---
Hafer Case Products carry
Limited Lifetime Warranties
---
We can re-configure existing cases for new purposes.
---
Expedited Case Repairs for Limited Downtime!
---
Warranty Service and Case Repairs
The Hafer Case limited lifetime warranty guards against most issues with your custom case purchases, under normal circumstances and usage conditions. Contact a Hafer representative at 281.341.5070 to get warranty claims in the queue and receive information regarding how to expedite needed repairs.
Damages that are not covered under the Hafer warranty can happen to even the toughest and most rugged cases. For examples, a case penetrated by a forklift, or run over by a semi at the loading dock cannot be covered under "normal circumstances and usage conditions."
Many damaged cases can be repaired and failed components replaced. Examples of common repairs include worn or broken latches, handles, casters, cracked or pierced case walls, deteriorated foam interiors, damaged corner angles, or crushed corners. If a case is repairable, Hafer repairmen can do it.
Fast Turn-Around on Repairs



We know limiting downtime is important! The expert repair staff will repair your case and have you back into action with minimum down time. Call us on 281.341.5070 to get repair quotes and information about sending or bringing your case to the Hafer facility. Get it to us fast and we will get it back to you as quickly as possible. When a case is not repairable we will gladly quote you on a new Hafer Case!
Case Re-Configurations
Question:
I have a case in good condition but the interior was customized for a specific piece of equipment that's no longer in use. Is it possible to re-purpose the case with a new custom interior?
Answer:
Dependent on the size, shape and original construction method for your case, it may be possible to re-configure or create a replacement case interior to fit other equipment. If you have a case that does not exactly fit items you need to carry or ship, call us at 281.341.5070. We will assess and advise you if the case can be re-purposed with a new interior to meet your specific needs. If not, we will gladly quote you on a new Hafer case!
Above: The before and after photo sequence above, shows a case that was penetrated by a forklift. The good news is that the case contents were not damaged, because they were nested in a Hafer custom protective foam interior. The left photo shows the damage circled in red. The photo on the right shows the case as good as new. The repair was done with a minimum of downtime and expense.