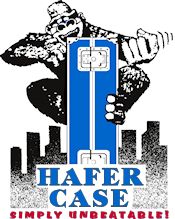 ---
Authorized Dealer For

---
Hafer will design and build the custom case of your dreams.
You can buy 1 or 100!
---

A self-contained portable
beverage and snack bar.
A Hafer Original!
---
Hafer Case Builds
ATA Spec 300 Cases
---
Hafer Case Products carry
Limited Lifetime Warranties
---
Design and Construction - Hafer Case Never Cuts Corners
The Hafer Case design staff works closely with customers to create the optimal case for the equipment and contents to be protected. Many criteria are considered including item weight, size, sensitivity, value, storage conditions, shipping methods, and more.
For Hafer ATA cases, all edging, corners, clamps, latches, handles and hinges are machine riveted to ensure maximum strength and durability. All fixed interior foam linings are spray glue coated, as opposed to spot gluing. Spray glue ensures the integrity and longevity of the bond to the case interior.
Hafer uses highest grade materials for ABS plastic and aluminum walled cases. First quality hardware is used on Hafer cases and is installed and attached using machine riveting. Custom interiors are machined from protective foam such as Polyethylene, Crosslink, Anti Static varieties.
Hafer Case is the company you want to call when extraordinary case solutions are absolutely required. Whatever it is you have to protect, Hafer can build a case for it!
The damaged brand-x case (pictured left) took a lickin' but couldn't hold up to the day to day abuse. Unfortunately, the case maker used fast, cheap, inferior construction methods and materials.
The metal corner angles used in the damaged case are referred to in the industry as doubles, and are merely slipped over the edge of the case wall and glued in place. Note that there are no rivets in the corner angle. While this manufacturing method is faster and cheaper, it leaves the case without integrity and the ability to stand up to the abuses of real world action.
When comparing prices from different manufacturers, you must compare the quality of construction and components as well. Less expensive cases may cost you more in the long run in broken equipment, repairs and replacements.