Hafer Case Customs - Read about Hafer Case Mission and History
---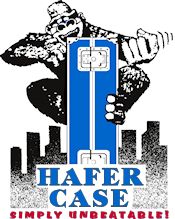 ---
Authorized Dealer For

---
Hafer will design and build the custom case of your dreams.
You can buy 1 or 100!
---

A self-contained portable
beverage and snack bar.

Great for trade shows, exhibitors, mobile catering, event rentals and more.

---
Hafer Case Builds
ATA Spec 300 Cases
---
Hafer Case Products carry
Limited Lifetime Warranties
---
We can re-configure existing cases for new purposes.
---
Expedited Case Repairs for Limited Downtime!
---
Hafer Case Success - A Commitment to Quality Products and Service
Hafer Case, Inc. opened for business in 1987. Bill Hafer founded the company on two principles he considers the most important for success, which are building high quality products, and a commitment to excellent customer service.

Hafer, a musician, started out building cases for the music industry, filling a need for custom-built cases that had been largely ignored by other case makers. The word spread about Hafer Case craftsmanship, value and the effectiveness for protecting musical instruments and associated performance gear.
Hafer Case has since diversified to become known nationally and serves many other industries in need of out of the ordinary cases. With substantial growth over the years, the company has not lost sight of its founding commitment of giving individual attention to every customer. "The majority of our business comes from referrals by satisfied customers, and honestly, we don't remember ever having an unsatisfied customer," says Bill Hafer.
When you call Hafer Case, you talk to real people, instead of recorded menu selections. Hafer takes pride in the fact that customers with questions and/or orders can call or stop by the shop and speak directly with a production staff member. It is possible that the person you connect with will have a hand in designing, quoting, and supervising the construction of the cases you order.
Most importantly, Hafer representatives take the time to understand your custom case needs, before making recommendations on materials to be used for maximum protection of your contents. Recommendations are based on years of design and manufacturing experience. "We want you to get the right case, at the right price point, with the right fit to protect your equipment."
In virtually any manufacturing scenario, time and component shortcuts can be implemented to speed up the assembly process and lower production costs. Production shortcuts almost always compromise the quality of the product. Hafer Case does not cut corners or compromise quality! "Every case is built as if we were building it for out own use."
"
Hafer Case is a custom shop dedicated to manufacturing the highest quality custom cases available anywhere, with customer service unequaled in the industry."

---
:: :: :: :: :: :: :: :: ::
:: :: :: :: :: :: :: ::
:: :: :: :: :: :: :: ::
Copyright © 2015 • Hafer Case Manufacturing • All Rights Reserved by Computernix.com • Design and Marketing: Nix