Hafer Case Customs - IT Computing and Networking Equipment
---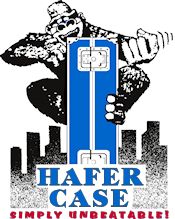 ---
Authorized Dealer For

---
Hafer will design and build the custom case of your dreams.
You can buy 1 or 100!
---

A self-contained portable
beverage and snack bar.

Great for trade shows, exhibitors, mobile catering, event rentals and more.

---
Hafer Case Builds
ATA Spec 300 Cases
---
Hafer Case Products carry
Limited Lifetime Warranties
---
We can re-configure existing cases for new purposes.
---
Expedited Case Repairs for Limited Downtime!
---
Computing Cases
PCs, server computers, networking gear, and LCD/plasma displays need maximum protection during transport and shipping. Mobile professionals who work with portable networks, data centers, and computer training have to be confident that computing equipment will arrive at destinations undamaged.
When you need a case for multiple laptops, LCDs and power accessories, you're not going to find it "on the shelf." Hafer Case can build custom computer cases of practically any size and configuration needed with additional features such as wheels, telescoping handles and lockable latches. We also design and build portable custom rack mount cases for networking equipment, server farms and data storage applications.
Example uses for Hafer custom computer cases
| | | |
| --- | --- | --- |
| • Portable Servers | • Portable Network Applications | • Portable Data Centers |
| • Portable Rack Mount Systems | • Cases for Computer Training | • Multiple Laptop Cases |
| • Keyboards and Monitors | • Cabling and Accessories | • Portable Workstations |
| • Printers and Accessories | • Tool and Repair Kits | • Plotters and Accessories |
galeria jquery lightboxby VisualLightBox.com v6.0
---
:: :: :: :: :: :: :: :: ::
:: :: :: :: :: :: :: ::
:: :: :: :: :: :: :: ::
Copyright © 2015 • Hafer Case Manufacturing • All Rights Reserved by Computernix.com • Design and Marketing: Nix