Hafer Case Customs - Tough AV Equipment Cases Built Just the Way You Need Them
---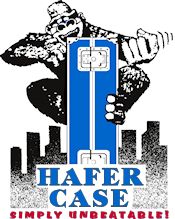 ---
Authorized Dealer For

---
Hafer will design and build the custom case of your dreams.
You can buy 1 or 100!
---

A self-contained portable
beverage and snack bar.

Great for trade shows, exhibitors, mobile catering, event rentals and more.

---
Hafer Case Builds
ATA Spec 300 Cases
---
Hafer Case Products carry
Limited Lifetime Warranties
---
We can re-configure existing cases for new purposes.
---
Expedited Case Repairs for Limited Downtime!
---
Hafer Case - Audio / Visual Transport Cases



Mobile audio/visual professionals who rely on cases to protect expensive equipment trust Hafer Case Customs to build virtually bullet-proof AV cases for all of their applications. Special fitted custom foam case inserts offer maximum protection for fragile and sensitive A/V components and systems. Hafer makes cases for cameras, projectors, lighting, projection screens, LED displays, TVs, LED signage, computer monitors, kiosks, DJ mixers, stands, lighting, cabling, accessories and any other equipment you need to safely transport.

Custom rack mount cases, console cases, and portable audio/video workstations are built to your specifications from top-grade wall materials, protective foam, and hardware. All Hafer cases are machine riveted to insure longevity and indurance.

This page contains a series of photographs of audio visual equipment custom cases. Possibilities are endless. If you can imagine it, Hafer Case can build it. Hafer Case is the place to call when you absolutely have to have exactly what's needed for your work. You never need to compromise and use cases that will just make do.
galeria jquery lightboxby VisualLightBox.com v6.0
---
:: :: :: :: :: :: :: :: ::
:: :: :: :: :: :: :: ::
:: :: :: :: :: :: :: ::
Copyright © 2015 • Hafer Case Manufacturing • All Rights Reserved by Computernix.com • Design and Marketing: Nix