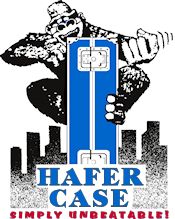 ---
Authorized Dealer For

---
Hafer will design and build the custom case of your dreams.
You can buy 1 or 100!
---

A self-contained portable
beverage and snack bar.

Great for trade shows, exhibitors, mobile catering, event rentals and more.

---
Hafer Case Builds
ATA Spec 300 Cases
---
Hafer Case Products carry
Limited Lifetime Warranties
---
We can re-configure existing cases for new purposes.
---
Expedited Case Repairs for Limited Downtime!
---
Custom Foam Inserts - Protection for your Sensitive and Fragile Cargo
Hafer Case custom fitted foam case inserts offer assurance that your valuables, breakables, instruments, apparatus, sensitive electronic devices and tools arrive to destinations undamaged. It all abou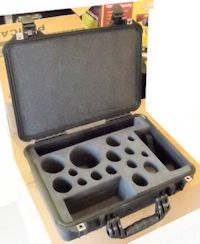 t avoiding or eliminating the need to file insurance claims, as well as ending business interruptions and downtime due to equipment damaged in transit. Hafer's custom foam inserts are more than worth the cost and can easily offset the investment with the first incident of successful damage intervention.
More Good News About Foam Case Inserts
You can have a Hafer custom case insert made for your new Hafer case . . . or we will quote you on designing a foam insert for a case you presently own, even if it's made by another manufacturer such as Pelican, Hardigg, SKB or others. It's a win-win for you.
Case interiors are a Hafer Case specialty. Our craftsmen begin with the highest quality foam materials and either form or machine cavities to snuggly fit your objects into your case. Movement and shock in transit are virtually reduced or eliminated.
Foam Types for Hafer Cases
In most cases, Hafer manufacturing uses polyethylene foam. Also known as PE foam, this plastic polymer material is used extensively as packaging foam. It is a tough, resilient, lightweight, closed-cell foam material commonly used for the cushioning of relatively high value and fragile items. It is made in a wide range of colors and densities (very firm and rigid, to flexible). By nature, it withstands long periods of heavy use. It's a considerably strong and resilient cushioning material that is not damaged by initial impacts and recovers to maintain protection against repeated shocks. The type and thickness of foam used on our custom case inserts is dependent on the case size and purpose, as well as contents of the case. Foam thicknesses are ½", 1", 2", 3", and 4"
Custom foam inserts for electronics are typically made from antistatic polyethylene foam, which has special properties that prevent static charge and damage to electronic components. It is recognized by it's standard pink color.
The photo slideshow on this page illustrates examples of custom foam case inserts crafted by Hafer Case.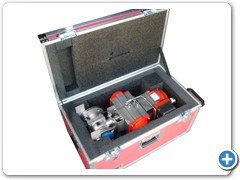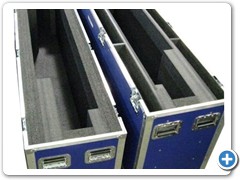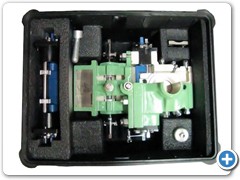 jquery lightbox thickboxby VisualLightBox.com v6.1